Welcome to Lune Technology
A leading provider of Renewable Energy Solutions mainly focus on Solar Power System and Wind Energy, LUNE TECHNOLOGY is proud of its role as a responsible Indian Business the key challenges that daunt world and more particularly India, today.
Since our business is built on happy customers who are eager to refer their friends and colleagues, it's in our best interest to provide outstanding customer satisfaction and service in every aspect of installation. We focused on providing sustainable renewable energy at affordable cost to urban and rural India. We provide for Industries, Homes, Office, and Agriculture (up to 5 MW) with innovative and affordable solution. With enriched skills in solar power plant and corporate sales we bring world class products and services through our resources and network catering to Domestic, Commercial, and Industrial Clients!.
Our Approach is to deliver Solar Power System to the highest Engineering standards while making the switch simple for our customer. We want you to be happy and enjoy saving money.
Alternative Energy for Business
Not only is Solar the most common source of renewable energy in the world, it's also one of the most financially viable. This is because the energy is generated the 'free' source that is the power of Sun.
Increasing number Solar farms are appearing around the country supplying the Power to Home, office, Agriculture, Industries etc. while increasing numbers of small-scale users are choosing to generate their own electricity supply using Solar Modules.
Solar panels don't need much maintenance and don't need planning permission and can be particularly economical for businesses.
The future of solar energy
Every new technology brings new opportunity to save Environment. With the right investments in green technologies, India is well positioned to achieve renewable energy targets. The pursuit towards cleaner energy will have a crucial role in enabling the country's transition to a fully sustainable energy system.
As per the International Energy Agency's (IEA) Renewables Report, Solar and Wind represent 90% of the country's capacity growth, which is the result of auctions for contracts to develop power-generation capacity that have yielded some of the world's lowest prices for both technologies. The country, which presently has low conventional energy resources in comparison to the energy needs of the huge population and the swiftly growing economy, can foster the enormous potential of solar energy
Solar Cell
A solar cell, or photovoltaic cell is an electrical device that converts the energy of light directly into electricity by the photovoltaic effect. It is a form of photoelectric cell, defined as a device whose electrical characteristics, such as current, voltage, or resistance, vary when exposed to light. Individual solar cell devices can be combined to form modules, otherwise known as solar panels. In basic terms a single junction silicon solar cell can produce a maximum open-circuit voltage of approximately 0.5 to 0.6 volts.
Solar cells are typically named after the semiconducting material they are made of. These materials must have certain characteristics in order to absorb sunlight. Some cells are designed to handle sunlight that reaches the Earth's surface, while others are optimized for use in space
Wind Turbine
Wind turbines are manufactured in a wide range of vertical and horizontal axis. The rotor, which is approximately 20% of the wind turbine cost, includes the blades for converting wind energy to low speed rotational energy. The generator, which is approximately 34% of the wind turbine cost, includes the electrical generator, the control electronics, and most likely a gear box (e.g. planetary gear box),  adjustable-speed drive or continuously variable transmission  component for converting the low-speed incoming rotation to high-speed rotation suitable for generating electricity. The surrounding structure, which is approximately 15% of the wind turbine cost, includes the tower and rotor yaw mechanism.
Small wind turbines may be used for a variety of applications including on- or off-grid residences, telecom towers, offshore platforms, rural schools and clinics, remote monitoring and other purposes that require energy where there is no electric grid, or where the grid is unstable. Small wind turbines may be as small as a fifty-watt generator for boat or caravan use. Hybrid solar and wind powered units are increasingly being used for traffic signage, particularly in rural locations, as they avoid the need to lay long cables from the nearest mains connection point.
Latest News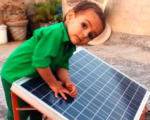 Emphasising the government's pledge to promote renewable energy, Finance Minister Piyush Goyal...
Services We Offer
We offer
Solar Power System
Solar Heating Systems
Operation and Maintenance
Solar- Wind Hybrid System
KNOW MORE
Site Survey & Feasibility Study
This is done manually by skilled manpower, on basis measuring area, technical and operational feasibility.
Detailed Engineering Design
We provide complete structural report, array design and installation procedure about your PV System.
Material Procurement
Lune Technology deals with India's No:1 and most trusted solar manufacturing companies.
Operation and Maintenance
The execution of the project is totally customized and handle by well experience team.

PRICING
We offer best price in market
Latest Blogs & News
We Write about natural energy
SOLAR PANEL GROWTH
Tamil Nadu has the 5th highest operating solar-power capacity in India in May 2018. The total operating capacity in Tamil Nadu is 1,8 GW.On 1 July 2017, Solar power tariff in Tamil Nadu has hit an all-time low of Rs 3.47 per unit when bidding for 1500 MW capacity was held. The 648-MW Kamuthi Solar Power Project is the biggest operating project in the state. On 1 January 2018, NLC India Limited (NCIL) commissioned a new 130 MW solar power
Our Contribution
For Better Tomorrow
Delivered the importance of renewable energy